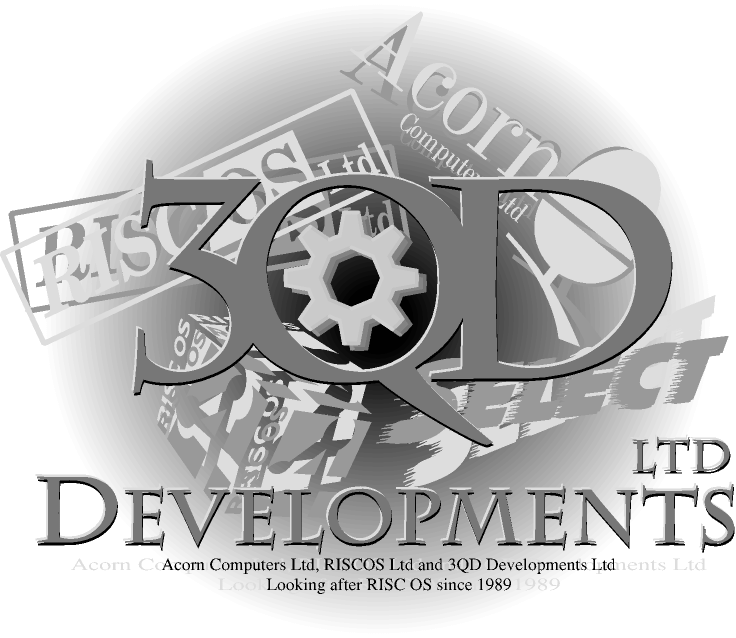 Thanks for visiting RISCOS.com, whatever your interest in RISC OS we hope we can help. As the site is still under development this front page will list the changes that are being made newest first. Once all sections of the site are completed this front page will change.
28/10/2015 - RISCwares and RISC OS 6.20 availability
Over the past couple of months we have been busy developing a new website shopping system. This new system is called RISCwares. Version 1.12 is currently ready and waiting to handle orders from riscos.com. We took the unusual step of developing our own system as we couldn't find any third party solutions that worked how we wanted and offered the features we needed without any unnecessary bloat or high fixed costs.
We will be extending the RISCwares feature set over the next few months as it's adapted and deployed across our other websites. This means that we will be making a great many more products available. This list includes items formally available from APDL in London and new and re-launched products from VirtualAcorn. The APDL range will include both hardware and software. The aim is to make all the software products available as instant downloads. Once completed RISCwares will offer hundreds of exclusive products.
The first new download product available from RISCwares is the RISC OS 6.20 upgrade. After extensive testing we decided that we needed to make a significant number of changes and improvements to the RISC OS 6.20 build and installer. These unexpected changes combined with staff illness have delayed the RISC OS 6.20 release for which we apologise.
The RISC OS 4 upgrades and the RISC OS 6 upgrade are now available for immediate download. Look out for other product announcements over the next few days.
20/08/2015 - New products and new shop
We've been busy refreshing our product range and re-designing the riscos.com shopping system over the last few weeks. From today new versions of the RISCOS 'Classic ROMs collection' and the 'Virtually FREE RISC OS 4.02 for emulators' are available. These new versions are supplied as zip files rather than ISO images and have a simplified layout. As these two products are primarily designed for use with emulators we have updated our instructions for Red Squirrel and RPC-Em and have included components in 'self extracting' RISC OS absolute format. This makes setting up an emulated RISC OS environment easier and ensures that key RISC OS components don't lose their filetypes.
To coincide with the first product updates the first section of the new riscos.com shopping system has gone live. Over the next few weeks the shop will be populated with updates to current products, brand new products and the return of some old favourites. More details will be revealed once these products are available.
Whilst we have mainly been working on the RISCOS.com products and shopping system we have found time to add a 'Clan Acorn' section to the Acorn Computers archive. All six of the Clan member floppy discs are included along with the original Clan press release. We are always looking for more material to add to both the Acorn Computers and RISCOS Ltd sections of the archive so if you have something that's not currently included please do get in touch.
11/08/2015 - Reviews, features and more
We are pleased to announce that a new 'Reviews & Features' section of the RISC OS archives is now available. This new section can be reached from the main archives index or from here. This new section includes articles reproduced with the permission of a number of RISC OS magazines.
Over the past couple of months we have also made numerous other changes to the website. We have been tweaking page layouts on a number of pages to improve readability. We have also re-designed the RISC OS information pages to make them simpler. The new shop system is nearly complete and you will see shop graphics popping up on some pages. The new shop hasn't yet been activated but it should be running very soon. Once it's up we hope to be making some surprise announcements.
26/06/2015 - ARM Assembly Language Programming
Following on from our announcements over the last few days we are pleased to announce that Alligata Media's 'ARM Assembly Language Programming' has been added to the developer bookshelf. This brings our count of free to read RISC OS reference books to nearly 40.
In other news we have also replaced the 'listings' text files that accompany Martyn Fox's 'Beginner's Guide to WIMP Programming' as some of the files were tokenised and couldn't be viewed on non RISC OS systems. The replacement listings should be viewable in any text editor on any system.
25/06/2015 - Three further books added to the FREE riscos.com support library
We are pleased to announce that a further three book titles have been added to the RISCOS.com support library. The new titles are First steps in programming RISC OS computers, A Beginner's guide to WIMP programming and the Archimedes Game Writer manual.
The new titles can be found from the main support index.http://www.riscos.com/support/users/index.htm. 'First Steps in programming RISC OS computers' joins the 'First Steps with RISC OS 4' in the user support section.
The other two titles are available from both the user and developer sections of riscos.com support as they have information that's appropriate to both RISC OS users and those considering developing software for RISC OS
24/6/2015 - RISC OS 4.39 Documentation and three new books now available FREE of charge
As part of our on going project to resolve problems with RISC OS documentation we have just made available the first part of our planned RISC OS 4.39 user guide. The RISC OS 4.39 Configuration Guide can be found in the user support section of the website.
We are also pleased to announce that a number of extra titles have been added to the free user and developers support sections of riscos.com. Available from today in the developer support section is BBC BASIC V. Also new in the user support section are Budget DTP on RISC OS and Graphics on the ARM. We hope to be making further titles available shortly.
Finally, as part of the site re-design we will be referring to the different versions of RISC OS by number rather than using the 'Adjust' and 'Select' names. RISC OS users have told us that they find the use of the 'Adjust' and 'Select' names very confusing. We have to agree, especially as the 'Select' name can be applied to multiple versions of RISC OS from RISC OS 4.20 to RISC OS 6.20. If you do find a document, apart from those in the archives, which uses the 'Select' or 'Adjust' names can you please let us know so we can correct it.
19/6/2015 - new website and new content finally coming on stream
The huge amount of worked needed to preserve APDL after the sudden death of Dave Holden has caused a major delay in our plans for RISCOS.com. So, although it's late, we have finally uploaded the next phase of the re-designed website and we have added new content and space for further materials.
Over the next few weeks the new shop system will be going live and we will be announcing our plans for our new RISCOS.com hardware range. In the meantime some new sections of the site have pages with 'Under Construction' logos. With a bit of luck and a trailing wind these logos will be vanishing very shortly.
19/5/2015 - New content coming soon
There are going to be a number of changes over the next few weeks. As well as new content a number of sections of the site are due to be expanded. Once all of these updates have been completed we will issue a press release describing all the changes.
28/7/2014 - Website maintenance
Over the next few weeks we will be making some big changes to www.riscos.com. As a result some pages might be moved or replaced, we apologise for any inconvenience caused.
2/9/2013 - Phone lines closed from 2/9/13 to 9/9/13
Please note that our phone lines will be closed from the 2nd of September until 10:00am on the 9th of September.
28/8/2013 - New RISCOS.com website goes public
3QD Developments Ltd are pleased to announce that the new RISCOS.com website is now publicly available. The new site is not yet 100% complete, but the vast majority of the work has been completed. The new website has been re-designed from the ground up, a process that's taken a lot longer than we had hoped, but the job wasn't trivial.
There have been various versions of riscos.com over the last 15 years, in total there are over 18,000 files occupying 9.04GB. That's a lot of content. We needed to go through every single one by hand to ensure that we didn't lose anything valuable in the re-design.
As part of the re-design process we wanted to ensure that the new site would display correctly on RISC OS browsers. as well as on other platforms. We would like to thank all those who helped with the testing of the site across so many platforms.
After 5 months, and many hundreds of hours, the site is complete enough that it can now be made publicly available.
The following sections of riscos.com are almost complete:
FTP area
User support
Developer support
Acorn Computers Ltd archives
RISCOS Ltd archives
News, FAQ, Contact details etc
The following sections are nearly complete:
RISC OS version pages (3.1, 3.5, 3.6, 4.02, 4.39)
The following are still in the process of development/testing (and are not publicly available):
Shopping system
RISC OS SIX
This front page will be updated as the site is completed. We hope you are happy with new riscos.com.
Aaron - 3QD Developments (28/8/13)